Perth Stonemason Specialists
Perth Stonemason Specialists have been providing the highest quality stonemasonry services for over 35 years. Our team of highly recommended and skilled stonemasons have a wealth of expertise and experience, led by our master builder Jim Flanders who has dedicated his life to perfecting his technical skill and passion for stonemasonry. With Master Builder credentials, you can be sure that every job undertaken by Perth Stonemason Specialists is completed to the highest standard with precision and accuracy. Our stonemasons are trained in the latest techniques and take pride in their work, making us one of the most trusted and reliable specialist stonework companies in Perth.
Experienced Stonemasons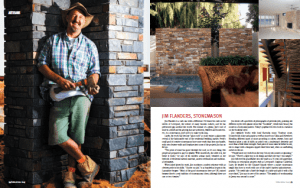 An experienced stone mason in Perth can be a great asset to any architectural project. They are experts and innovative in the craft of working with beautiful stone and have the expertise to create fireplaces and surrounds, both interior and exterior, using the highest quality stone. Stonemasons use traditional methods that have been perfected over generations; they are able to carefully cut, shape, mould and join pieces of stone together to create beautiful, durable structures that will last for years. With their help, you can ensure that your architectural project is brought to life in the most precise manner possible.
What Can Stonemasons Do?
Stonemasons in Perth, WA, are outstanding and skilled craftsmen with a deep knowledge of working with granite and quartz to create structures for building and construction. They use their workmanship, craft and skill to cut and prepare the stone in order to create the desired shape for any commercial and residential projects. Stonemasons put a lot of effort into their work, making sure that they get the dimensions right so that their projects last for a long time. They can also add unique details like engraving or staining to make the stone look more attractive. Stonemasons have an artistic eye and are capable of creating beautiful pieces out of stones that can add charm and elegance to any building or construction project. Their expertise ensures that each piece is unique and crafted with precision and care.
Stone Supplier In Perth WA
The Stone Supplier in Perth WA is renowned for providing high-quality masonry products to the Perth region. They specialise in sandstone and chic bluestone, which can be used to create exquisite fireplaces and surrounds. Their experienced staff are more than happy to assist with all your masonry needs, whether selecting a suitable stone or providing advice on installation. The STONE SUPPLIER team are dedicated to delivering a quality product and customer service experience that will leave you satisfied. With a wide selection of stones from different parts of the world, you're sure to find something that fits perfectly with your project. Whether you're looking for a unique piece for your home or need bulk materials for an entire project, STONE SUPPLIER has what you need at competitive prices. Visit their store today and discover why they have become the go-to place for all your masonry needs in Perth WA.
Servicing The Perth Region
The Perth region is well served by a variety of stonemasons, each offering different services and quality workmanship. From traditional stonemasonry to architectural consultancy, Flandersstone has a dedicated team of experts who can provide quality customer service and professional advice. With so many professional stonemasons in Perth available, customers are sure to find the right one for their needs. The experienced team of Flandersstone are also capable of delivering quality workmanship, ensuring that any project undertaken is completed with precision and craftsmanship. Furthermore, the customer service these stonemasons provide ensures that clients always feel taken care of and valued. With this combination of expertise and excellent customer service, customers in the Perth region can rest assured that they will receive the highest standards when it comes to stone masonry services.